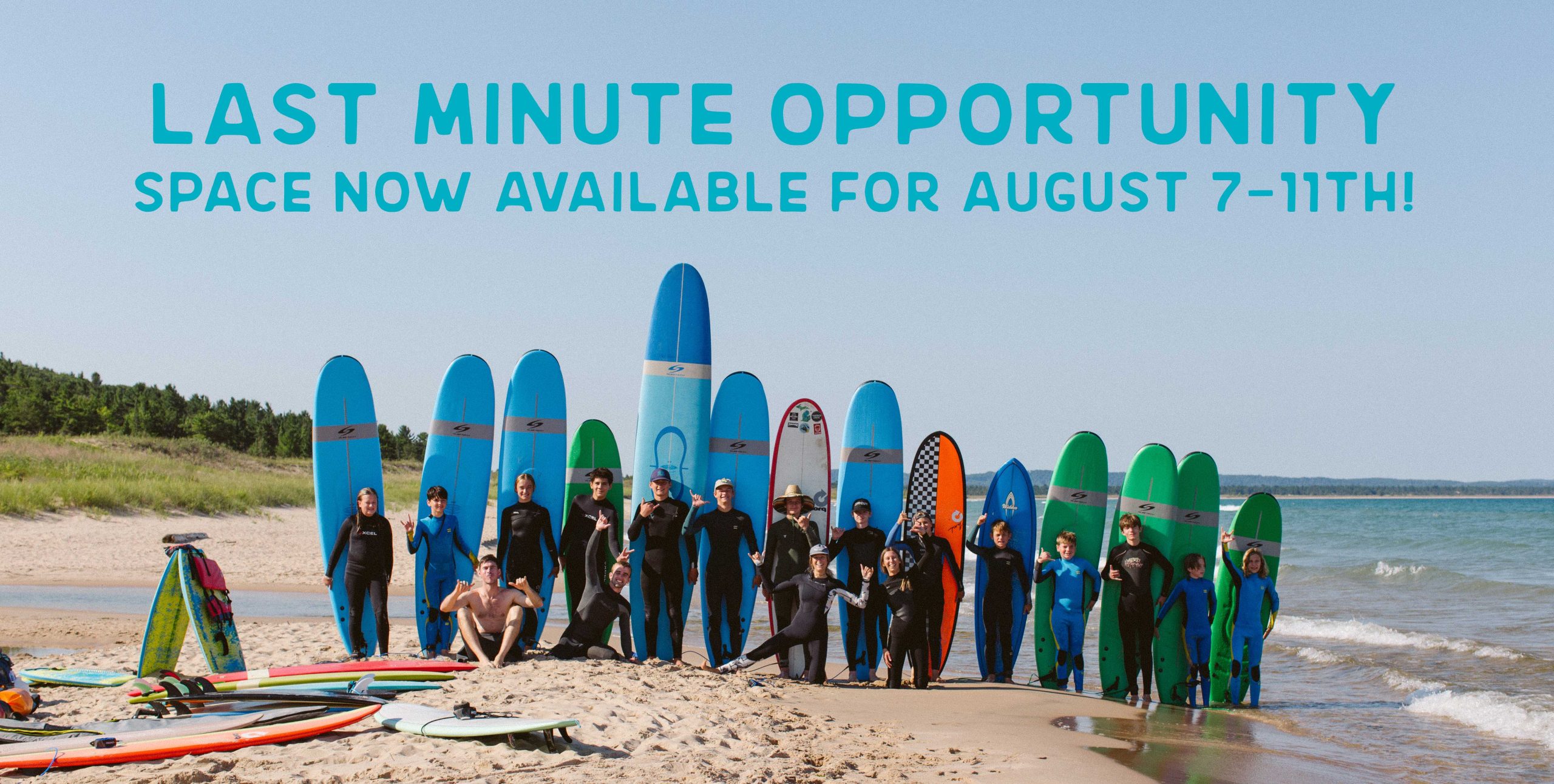 Back for it's 11TH season in action, SBX (Sleeping Bear X-treme) Junior Waterman Camp is the Great Lake's Premier Surf Camp for the aspiring waterman! Designed and taught by water enthusiasts to create water enthusiasts.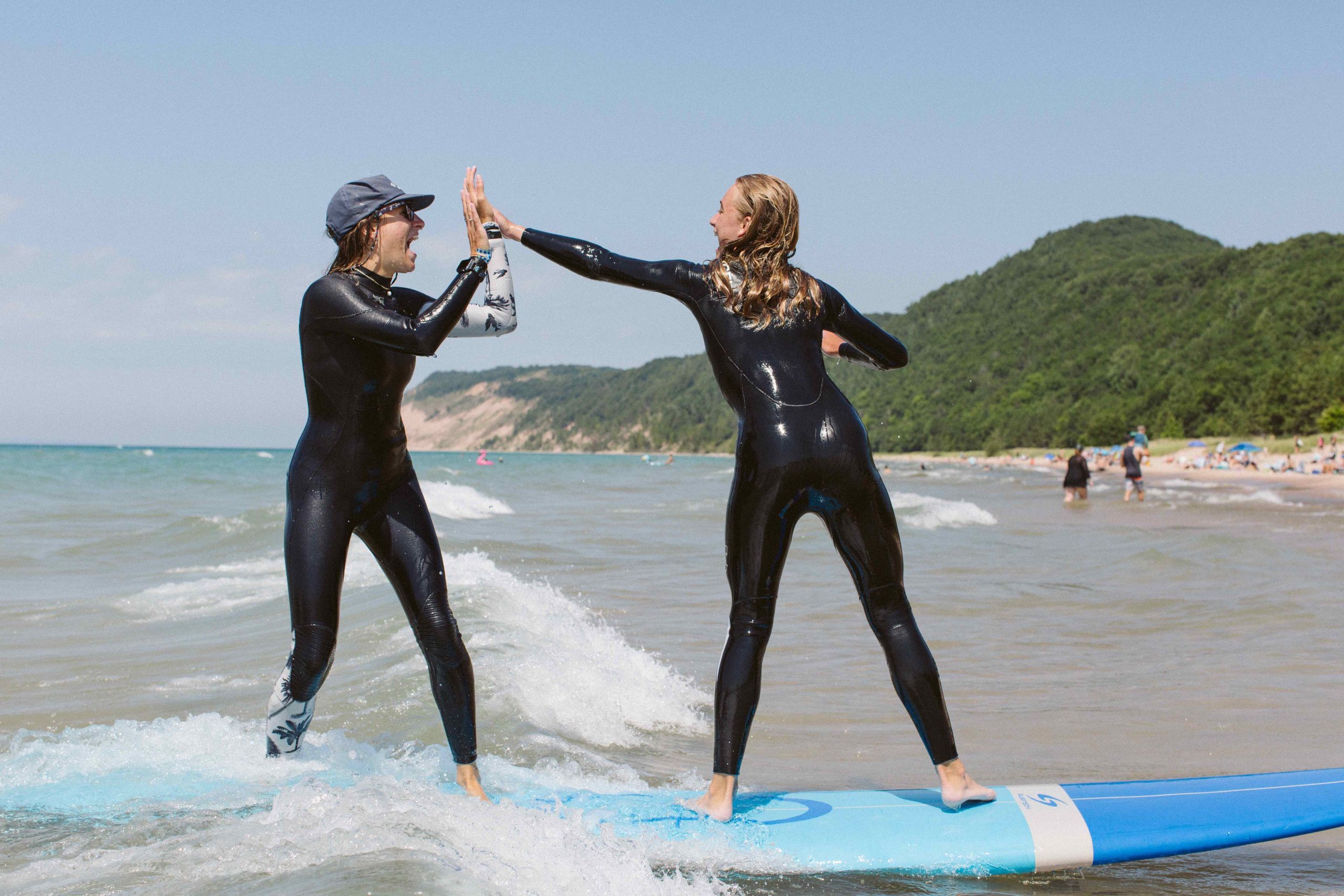 Every day a new adventure awaits according to the weather. We can not make waves, nor can we change the weather, so at SBX Junior Waterman Camp we take advantage of whatever conditions our mighty Lake Michigan provides!
Based around our beautiful, bountiful lake, the camp has a strong emphasis on taking advantage of the various conditions of the day to create greater waterman out of ourselves. Through this adaptable mindset and focus on outdoor activity on the big lake, we strive to instill a respect for the environment while immersing our students in all that is possible within our powerful Great Lakes playground.
While we would love to have waves every day, the lake sometimes has other plans, which allows us the opportunity to explore other methods of enjoying and expanding our knowledge on the water.
Dependent on the mood of the lake, we might go on a surf safari and spend the day sliding freshwater waves. If it's calm, we might take a down wind-er and see the expansive Sleeping Bear Dunes from a SUP, paddle a nearby river, learn to harness the breath and dive to the depths (possibly on historic wrecks). We might even get to take out the Supsquatch for a spin with new friends.
Regardless of the activity that the day brings on, we'll have the time of our lives while learning the ways of the waterman. Anything is possible at SBX Waterman Camp… leave it up to the wind, and some positive energy.
Some very important details:
Camp Dates: Three camp slots for 2023!
June 26th, 28th & 30th
July 17th, 19th & 21st
August 7th, 9th & 11th
Camp operates Monday, Wednesday, and Friday from 9:00am to 3:00pm
Meeting location will depend on the weather and activity of the day. Camp location will be, at maximum, within 25 miles of Empire Public Beach. Parents will be notified of drop-off and pick-up location at least 12 hours in advance of camp start time each day.
Waterman Camp will run regardless of the weather conditions. We will only cancel if there is thunder or lightning in which case we will move postpone or move forward the forecasted storm day to the next, or previous day (Tuesday or Thursday of that week).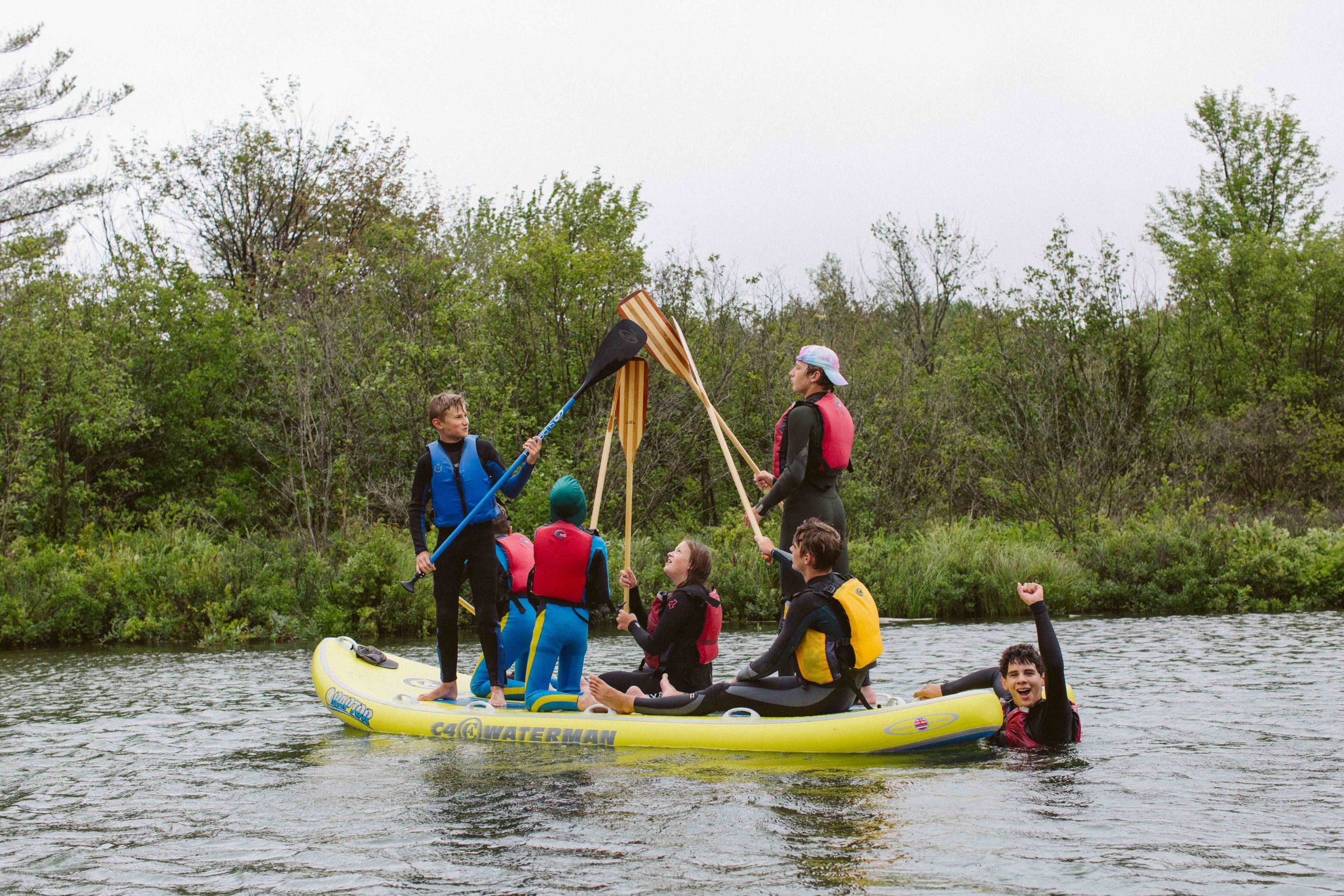 Cost of this priceless experience: $465   (payments are accepted ~ email [email protected] if cost is a true barrier to your child's participation)
What's included: Daily gear rental, top-quality instruction at an instructor to student ratio of 1:4, rental coupons for the whole family to use on down-days, exclusive in-store discounts, swag, and endless knowledge, confidence, & memories to keep fueling students passion & sense of adventure.
What to bring: Water bottle filled to the brim with fresh water, a delicious & nutritious pack lunch, sunscreen, towel, a dry, warm change of clothes (including a sweatshirt, rain jacket, or puffy), rashguard or sunshirt, brimmed hat, sunglasses,  a wetsuit if you have your own 3/2 or 4/3mm full suit available to you, and some major positive energy too!

Recommended for groms & grommets ages 12-15 
(Please inquire if interested under 12— we are so down with mini shredders but we want to ensure that all students are fully capable of participating in all Waterman Camp activities happily and independently.)
Over 15? We'd love to have you, just give us a call to check in regarding ages of the rest of our participants so you feel comfortable!
Does your child have a disability? Give us a call to talk about how we can cater to their needs.
You may email [email protected] for more details! We thank you for your patience. 
Terms & Conditions:
Cancellation Policy:
If you must cancel, you may receive a full refund up to 21 days in advance of the first day of camp. No refunds or credits are given for no-shows. If you cancel within 14-21 days of camp and we are able to fill your spot, we are happy to provide a refund aside from a cancellation fee of $50. We are sorry, but we cannot make exceptions as we are doing our best to accommodate all individuals eager to join camp. We reserve the right to cancel or reschedule the lesson if we feel that the safety of our students is at risk. Lessons, classes & camps are canceled by SBSK only if there is thunder and lightening, or if a case of Covid-19 has been confirmed within our group.
What we are asking of you before coming to Camp: 
Stay at home if you are feeling sick or 

if you have been in close contact to someone with Covid-19 within the last 14 days 

Ensure that your child is well rested, fed and hydrated prior to camp start time each day
Vow to communicate with a camp counselor upon dropping off and picking up your child from camp each day