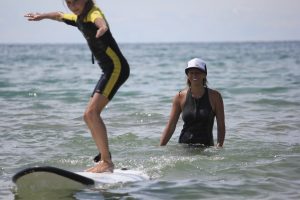 Lesson Details:
Our 1.5 hour surf lessons are held on the shores of Lake Michigan and have an instructor to student ratio of 1:4 or less. Meet us at lesson location 15 minutes before your reserved lesson time to get suited up (we rent wetsuits if needed for an additional $20).
Lesson location may vary due to high water levels, and energy on the lake.
Whether it's wavy or glassy flat, we can have a very successful time on Lake Michigan. Great Lakes surf lessons are canceled by SBSK only if there is hazardous weather on the lake or if an instructor falls sick. If
you
must cancel, you may receive a refund up to 24 hours in advance of your reservation.
Our surfing lessons begin by squatting in the sand as you learn about the science behind Great Lakes surfing, surf etiquette, the fundamentals of a pop-up and techniques for getting in and out of the water. All students will practice paddling and popping up on your surfboards on shore before getting in the water. Throughout the rest of the surf lesson, our highly knowledgeable surf instructors will do everything they can to get you smiling, and surfing toward the shore and down the line of a Lake Michigan wave.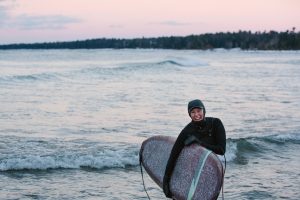 Meet the Instructor: Ella Skrocki is one of the Great Lake's most passionate female surfers. Ella grew up with Lake Michigan as her playground, learned to surf on an old wind-surfing board at age 8, and has since traveled to world-class surf around the globe. When in Michigan, she surfs year-round, and has spent countless hours scouring the Great Lakes coastline for surf. She has lived on the shores of Lake Superior while going to school at Northern Michigan University, and spends every summer playing in waves in the heart of the Sleeping Bear Dunes National Lakeshore.