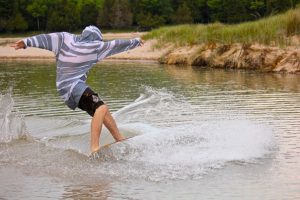 Rent a Skim Board!
For only $10 per day!
Skim-boarding is for anyone and everyone big and small interested in trying an active water sport. You can rent a skimboard and use them in calm creeks, big waves, along the shoreline or to slide on a rail.
Perfect for the shore of Lake Michigan. Other popular places include the outlet of Otter Creek and North Bar- all within skating, biking, driving distance of our shop! You'll find North Bar packed with groms eager to learn how to skimboard along with advanced skim-boarders as well who are kind and welcoming enough to give you tips and share the stoke they have for the sport.