Earth Day Beach Clean Up
April 22 @ 5:30 pm

-

7:30 pm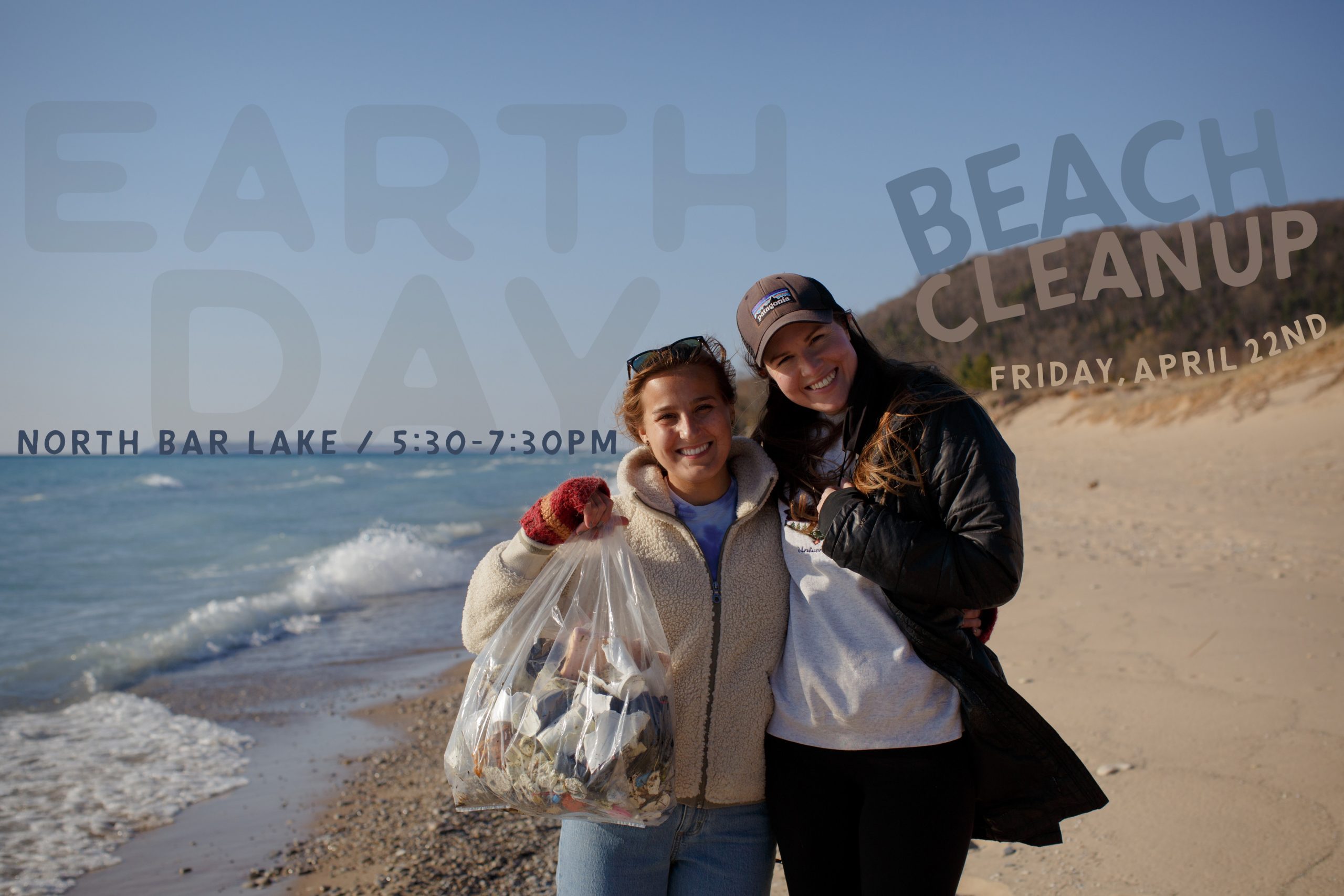 Join us for an evening of action in the heart of the Sleeping Bear Dunes National Lakeshore, at North Bar Lake.
While North Bar is one of the most pristine inland lakes in the area, it is also prone to an abundance of trash. North Bar has a fluctuating outlet, and in the past few years it has failed to connect to Lake Michigan entirely, therefore during rough days on the big lake, plastics make their way over the sand into the outlet and trap themselves in the reeds around the inland lake.
As the heart of the lakeshore, North Bar Lake is home to a beautiful, fragile ecosystem – inhabited by various fish species, birds, turtles, and mammals. Plastic pollution is a threat to that vital ecosystem.
Join us at 5:30pm to hear from a Biologist with the Sleeping Bear Dunes National Park Service about the importance of the ecosystem within North Bar Lake and stick around to pay tribute by doing a deep clean!
In partnership with the Northern Michigan Surfrider Chapter, FLOW, Friends of Sleeping Bear, Beth Price Photography and supported by Grocer's Daughter Chocolate, and S'well. We will have heaps of awesome information, inspiration, and connections to make all on April 22nd at North Bar Lake. Come hang and let's do some spring cleanin'!
What to bring:
A National Park Pass for parking at North Bar Lake parking lot & access to the Park — Can be purchased at the National Park Headquarters in Empire.
Gloves! It may be a bit chilly but also gloves are great cleanup companions! Hand sanitizer will be available on site as well.
Bag or Bucket! Old coffee sacks or plastic bags? A big bucket? Bring it! We will have bags and buckets on hand, but in the case of high attendance yours might be needed!
Where to meet:
The eastern edge of North Bar Lake! Park your vehicle, or your bike, and walk on down to the lake! We will be set up with a tent at the end of the walkway. You can't miss us!
A sign in sheet, bags and buckets will be at the tent. Arrive by 5:30pm to hear from organizers and a biologist with the National Park!
Remember not to forget your park pass!
BONUS: All participants will receive a coupon for 15% off to Shop Online or In Store at Sleeping Bear Surf!
RSVP to get event updates, to ensure you get don't miss out on discount codes and more!
Want to participate but can't make it to North Bar? Share a photo of your backyard cleanup with the hashtag #sbsurfspringclean and we'll send you the discount code!