Itching to try stand-up paddle boarding and explore our coastline from the water, left your boards back home, or want some more toys for your visiting family and friends? Well, you've come to the right spot! We introduced stand-up paddle boarding to the midwest in 2006 and since then have continued to share our passion for paddling and knowledge for the sport with our community and those whom come through!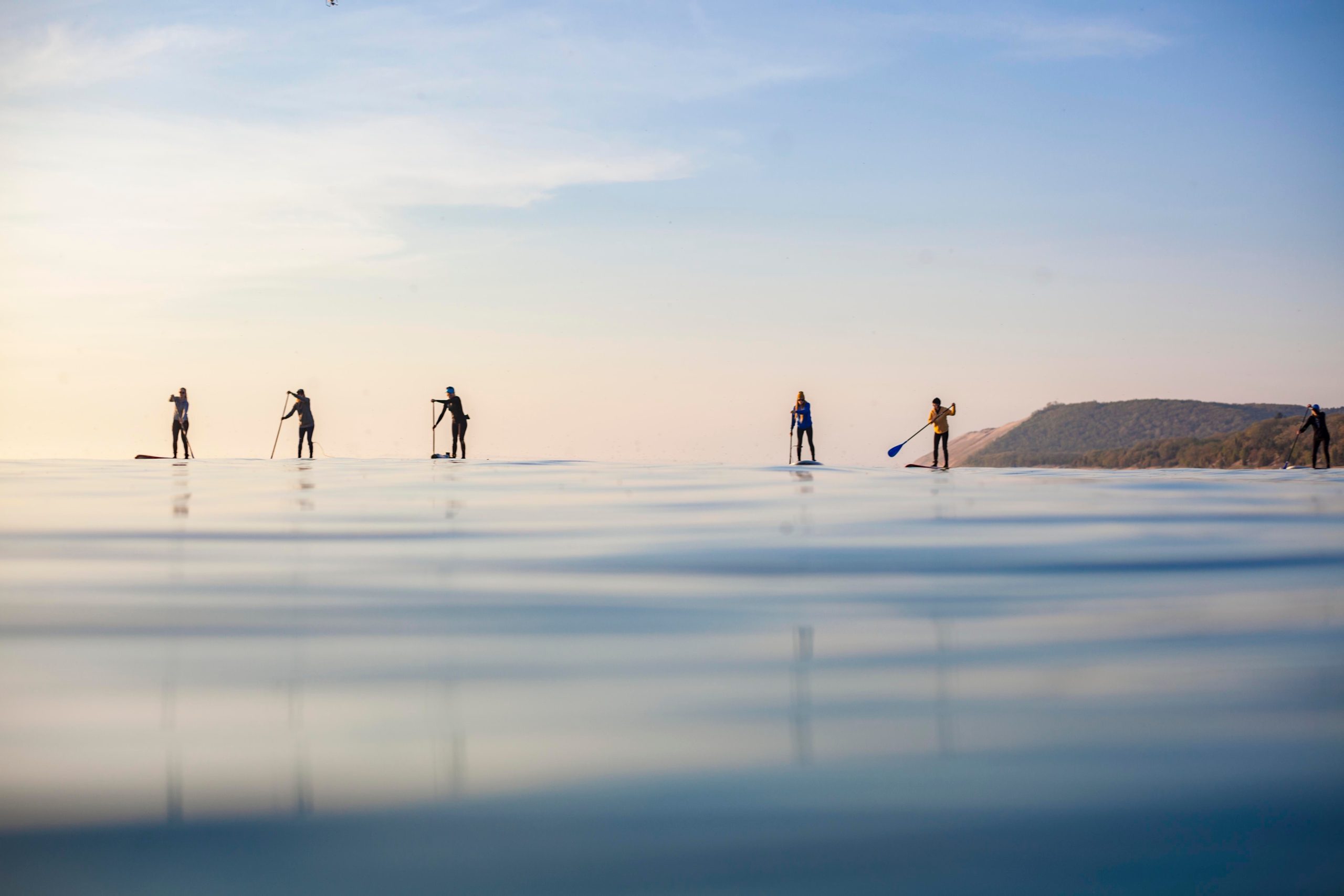 Our large fleet of Stand-Up Paddle Board rentals are the perfect way to view the lakeshore and the beautiful, clear waters of Lake Michigan. It is an ideal way to perfect your experience 'Up North.' Take your boards right down to Empire beach to experience the heart of the Sleeping Bear Dunes National Lakeshore.
Not only can you see the Empire Bluffs, the Sleeping Bear Dunes and the vast lakeshore in between, but stand-up paddleboarding allows you to see the pristine and peaceful lake bottom beneath the surface as well. For another fantastic paddleboarding experience, South Bar Lake is right next door – a beautiful, calm inland lake with an incredible, thriving ecosystem. 
Reserve your SUP Rental!
__________
What we offer:
Half Day Paddleboard Rentals

($40)

Pickup between 9:00am and 10:15am or 2:15pm and 3pm
Drop off within 4 hours of the start of your rental period
Overnight Rentals

($40)

Extend your day rental or pick up to enjoy a sunset cruise
Pickup at 6:45pm day of reservation
Drop off at Sleeping Bear Surf at 9:00am the next morning
Multi-Day Paddleboard Rentals

($ dependent on #days) **Most Popular Offering!**

Pickup or delivery between 9:00am and 10:15am day of rental
Drop-off or SBS pickup before 6:30pm day rental period ends
Delivery available for 2 day rentals of 3 or more boards and 3+ day rentals of 1 or more boards. Delivery charges may apply for locations further than 10 miles from Sleeping Bear Surf. Please specify delivery address and details at checkout. 
Multi-Day Inflatable SUP Rental

($60/day)

Perfect for a  multi-day river trip, or transporting via a small vehicle.

2 day minimum rental
Pickup between 9:00am and 10:15am day of reservation
Drop-off before 6:30pm day rental period ends
Must come back fully inflated to ensure pristine condition of SUP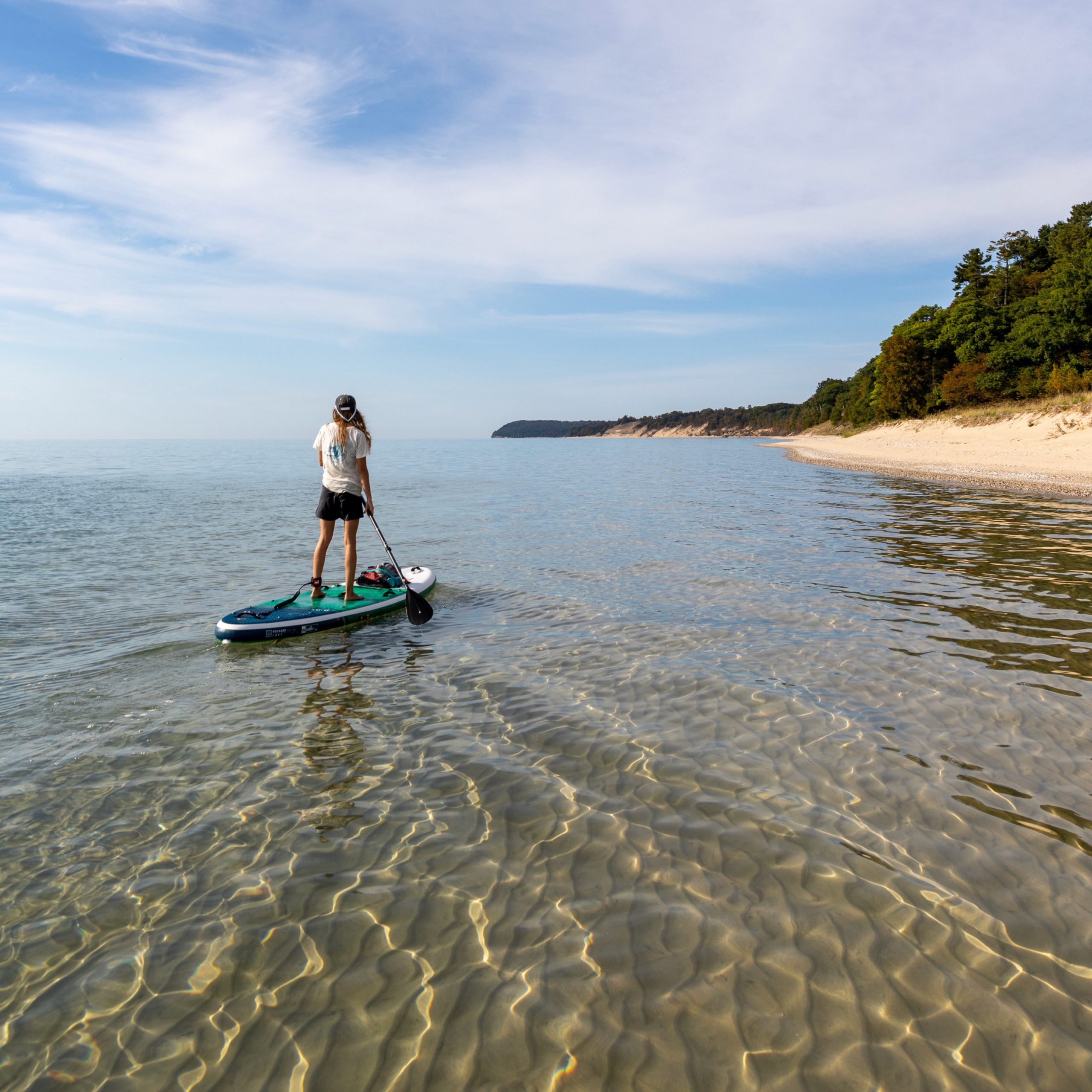 What's included:
Stand-Up Paddle Board sized appropriately
Adjustable paddle
Leash (must be worn around your ankle & attached to your board at all times)
PFD (Must be on person or on your board at all times per Coastguard regulation)
A quick and thorough introduction to SUP:
Before sending you off with your SUP rental, we will give you a quick and thorough overview of how to use and care for the board, paddle, and other equipment, as well as tips and techniques when paddling the board to ensure you have an extraordinary time, and that you, as well as our equipment, comes back in the same shape it went out in.
Important information to know:
Reservations for all paddleboards must be made one day in advance.

Rentals picked up after designated pickup hours or dropped off after your rental period ends will be charged a $20 late fee. 

How do I get my board(s) to the water?
For boards going to Empire beach, we recommend taking advantage of the simple rolling carts we supply (limited availability: first come first serve – make note in reservation you would like to utilize carts) and walk the boards the mere block to the beach. We also supply straps and pads to secure them safely on top of your vehicle if you plan on driving down to Empire Public Beach from town or away to a nearby paddling destination. Delivery options are available for multi-day rentals, and do include a delivery charge dependent on location. 
Reserve your SUP Rental!
__________
Terms & Conditions:
Cancellation Policy:
If you must cancel, you may receive a full refund prior to 5pm the day before your reservation. No refunds or credits are given for no-shows. We are sorry but we can not make exceptions as we are doing our best to accommodate all individuals eager to get on the water.
We reserve the right to cancel or reschedule your reservation if we feel that your safety is at risk. Rentals will be canceled by Sleeping Bear Surf if there is thunder and lightening, or dangerous water conditions. 
What we are asking of you before engaging with us : 
Stay at home if you are feeling sick or 

if you have been in close contact to someone with Covid-19 within the last 14 days 

Step away from others to sneeze or cough and do so into your elbow, shirt, or tissue if you have the urge
Practice patience during rental pickup and drop-off times, as there may be many eager paddlers awaiting their chance to get on the water or to drop off their equipment.