On Christmas Day of 1960 in Centerville, Indiana, John "Jack" and Faith "Muzzy" Lewis presented the world with the most extraordinary gift; a beaming Beryl. It was quite fitting that our very special lady would arrive on such an already special day, a perfect reflection of her generosity, selflessness and pure, utter joy.
Beryl is the definition of love.
Her parents and her adored five older siblings had settled down in Indiana after many years bouncing around with the Dodgers organization whilst Jack held his position as Business Manager of the farm clubs. As the youngest of 6 she worked hard to keep up with her three older brothers, not always with an enormous amount of success. Working so hard as to impress the eldest of the three, she ran, with bare "toesies", nearly a quarter mile to the mailbox in the dead of winter for a "whoppin'" 25 cent piece. Needless to say, the "wee one" needed rescuing. She therefore found time with her eldest sister a bit more pleasing, who became her bestest "bosom buddy". She also had remarkable friendships in her "four legged friends". Her wide collection of pets throughout her childhood, as well as her adult life, exemplified her love for all creatures big and small. She had "bunny rabbits" including Ebakaneezer, guinea pigs, a not-so-loyal "kitty cat", "mouse friend" Ziggy, Stubby the beloved Donkey, and dear "puppy dog" SinBaddy.
Beryl was always a "teeny weeny" little lady with a larger-than-life, sunshiney personality, overflowing with creativity. Her childhood bedroom was a perfect reflection of this; she took it upon herself, paintbrush in hand, to bring big life energy to her space. She jazzed up her walls with vibrant colors, and big, bright, beautiful hand painted flowers.
Although having Indiana roots, her summers, every single summer but one, were spent at their family home in Empire on the shores of Lake Michigan, in the heart of the Sleeping Bear Dunes National Lakeshore. The home was built before the Park was established, and is so fortunately one of the very few homes still privately held within the lakeshore. It was here that Beryl grew up, shaped by the shifting sands and the fluidity of the water. She flourished from her nights under the stars as she slept tent-less on the dunes (not quite as high up the side as her brothers, but darn near close), and was nourished by the "scrumdiliumptious-ness" of campfire s'mores.
It was here she developed her great love for the land and the lake.
During her escapades at her northern oasis she, alongside Mindy, took to the role of a most-cheerful waitress at La Becasse, greeting her coworkers with a big, unforgettable greeting. They even pumped gas for Jimmy Buffet downtown Glen Arbor! She also had a stint as cleaning queen at the Homestead Resort, where we imagine her entranced in song as she went about her tasks.
Oh her singing, so perfectly out of tune. Beryl expressed her capacity for her pure love of life through humming and singing throughout the day as she did simple, everyday tasks. She sang constantly, creating jaunty, made up diddies about whatever she was doing. It didn't matter if it was cleaning up after a pet, doing laundry, or trying to pick out clothes for a night out.
She was always in joyful song.
Surprisingly enough this was also the time in her life that rebellion crept out from beneath her cool character. Her independence had her getting into mischief, bombing around the county with her "bosom buddy" Cindy, in the family Pacer (much to her chagrin).
Her slightly mischievous nature held on lightly as she continued her formal education at Colorado Mountain College, and then to Eastern Michigan University to finish her degree in Geography. During this time she spent many-a-days in Ann Arbor with her dear sister Mindy. The two of them worked together serving for parties at the President's house and made buddies with the Rugby team. And after graduating from Eastern, she chose to stay put. There, she made sure to take on jobs that helped fuel her big love for life.
Her time at Sun & Snow Sports kept her in the latest & greatest ski equipment; she was such a beautiful skier. She'd draw perfect s-lines down the slope with the sounds of a zip-zooming race car echoing from under her neck up, pirouetting down the hill behind her. At Liberty Sports Complex she found delight as the shining, smiling, radiant soul that greeted the club members in the early hours of the morning when they arrived for their workout or tennis lessons. She also had a very rewarding stint with Journey's International, an ecotourism company, which put her in charge of the South Pacific. She absolutely thrived in that position, bringing such immense glee to clients through planning and traveling to Fiji, the Cook Islands, Australia and New Zealand. It was always so thrilling for her to see excitement in the faces of others, to be able to provide them with the experience of travel, adventure, and such grand fun.
It was the fabric of who she was.
Just prior to jumping in with Journey's, Beryl also worked at Gelman Sciences for a "tiddle". There she was introduced to the hottie chemist who had applied to her advertisement for a roommate on the company bulletin board in January of 1991. Two months after moving in and breaking the ice with a poopie list he had pinned up on the wall in front of the toilet, and speaking fluently her love language through his "jumbo-yumbo" malted milkshakes, Frank proposed to Beryl overlooking big Glen Lake at Inspiration Point. There was no time to waste, they were married August 3,1991. Beryl was always the one.
The early years were lean but full of "big fun". The newlyweds indulged in their exciting new relationship by ski bumming out west, backpacking, canoe camping, traveling the South Pacific on Journey's dime, "getting their giggles on" over lunch watching Andy Griffith, and hitting balls at the driving range while sharing a box of Girl Scout Caramel Delights.
It didn't take long for their entrepreneurial spirit to blossom amidst their primo partnership. Alongside dear friends they put on their superhero capes and started an Environmental Laboratory business, which they nurtured over the next 10 plus years. During that time Beryl and Frank spent holidays cozying up, just the two of them, in a country side double-wide near Chelsea, Michigan. They kept warm by heating their rustic pad solely by wood stove despite often having to wear mittens to keep circulation moving through their fingers while cooking their meals. Mittens would, of course, have to be checked for mama's "sweet as can be" six foot long corn snake, Madusa, who would often escape her enclosure and hunker down somewhere unpredictable. They'd harvest fresh eggs from the free ranging chickens, and tended to a huge, bountiful garden with the help of her dear bunny Pepper, watched over by their big, surrogate puppy dog Sam.
Their first home was a two bedroom bungalow in the heart of Chelsea, with a white, wicker entrance way touting a heart shaped window. Very suiting. It was here they brought three beautiful children into the world – Ella, Reiss, and Annabel, all two years apart. When her eldest was fresh into the world, she'd walk the stretch of shoreline down beneath the Sleeping Bear Dune with toddler on her back, receiving kisses to the back of her head. She would squeal in delight and exclaim "I am in heaven!". These exclamations of pure delight did not come infrequently. Beryl loved being a mother. She was the true epitome of a mother, and raised her children with love so instinctively, gracefully. Her gratification came from her children's happiness. There's a strong memory of Beryl that captures her dedication to motherhood so beautifully – Annabel in a backpack, Reiss in a wagon, and Ella holding her hand, with their ever-loyal dog Chila sauntering alongside them to the library for story time and playdates.
It was during this chapter, in 2002, when the cancer that would eventually take her from us, Uveal Melanoma, was diagnosed and treated. While a scary time, her attitude and positive perspective on life remained uninterrupted. With Ella in Kindergarten, Beryl picked her up from school the day she had her treatment (or as she would recount many years later "had her eyeball popped out and then popped right back in"). On their walk home, as they'd stop to pluck grapes from the wild concord grape vines, she'd make jokes about her funny eyepatch, and the gargantuan eyeglasses she'd have to wear for a little while. Regardless of hardship, every day would continue to be filled with joyful exuberance for the life we had.
Beryl never needed a reason or a special holiday to "get dolled up" and wear "va-voomy" clothes. Nor did she need a far away adventure or massive time frame to take the kids to "get their wiggles out" and go on an "expotition"! Beryl transformed the simple moments, the everyday acts, tasks, walks, and made them extraordinary. "Junch" time with Beryl had extra spunk as all "vittles" were complimented with exuberant remarks like "yumbo-jumbo-scrum-dily-umbo!". She spiced up and accentuated the simplest words, adding a strong flair to common man vocabulary. Oh Beryl had a way with words;  a "gifted speech" as a dear friend put it.
Her "Berylisms" have become part of our every day.
As the tiny house in Chelsea grew to feel pretty small for the family of five, Beryl vowed that they'd move to a place where they desired to live. Love, life, and money would follow. How right she was.
While the two-story farmhouse in Arcadia, that they had spent years gutting and remodeling, was a strong consideration due to their strong community there, Beryl wanted to be even closer to family. The calling to settle back into the heart of the Sleeping Bear was strong and undeterred. Beryl and Frank sold the house in Chelsea, sold the Environmental Laboratory business and sold the home in Arcadia all within the same month with the determination to make home in the place that indeed was always home to Beryl.
With their "belon"G"ings" and "youngsters" all packed up into a U-haul they ventured north, settling in with Jack and Faith for a while, rented a place on little Glen Lake, and moved into a commune with the Edwards family in Glen Arbor. As Beryl would put it, those times were "Too fun!".
Beryl had such an enduring, childlike, "goofbally" spirit. Her age is timeless, her extraordinarily unique, absolutely indescribable, immutable laughter is proof of that. How could anyone not remember her giggle. Oh the euphoria of her laughter was just about the most wonderful sound anyone could hear. That giggle never failed to prompt smiles and a chorus of laughter from those lucky enough to be amidst her striking presence.
Beryl's childlike soul wanted nothing more than to be surrounded by childlike energy. Beryl was the epitome of a mother. Not just to her three incredible children, but to every child that knew her and made use of her open door policy. She played as hard as any of her three. Beryl would ski, skateboard, paddle, surf, swim, hike and bike. She would bake, sew, play any and all board games and dedicated hours to puzzling, oh how she loved puzzles. She did it all, but just as long as she could do it all with her kids. Beryl relished in mom stuff. She volunteered in classrooms and at school events, helped with school plays, took charge of soccer sideline snacks and carpooling schedules, slipped the ski team race course, stood in the cold gate judging.. She did everything she could to support any and all activities that inspired her children.
Beryl was all in all the time.
Beryl walked with love in every way, especially in the raising of her children. She brought humor to the upset, and light within the challenges. Cartoons with crumpets and lemon curd snuggled up on the couch made days with the flu days to aspire to. Beryl lived, and therefore influenced, a life of movement, creativity, and connection.
It was a dream of hers to be a walk or bike ride to the beach, the library, and at the time, a grocery store. So, when Beryl tracked down the property on Lake Street in the Village of Empire her dreams came true, in the heart of the place she had yearned to be a part of. And, to add to the excitement and keep up with the spontaneous nature of their lives, they moved into their fancy new home in June of 2004 while the walls were still wet, and in the same breath, opened the doors of Sleeping Bear Surf & Kayak, Michigan's first surf shop.
Sleeping Bear Surf was brought to life through Beryl's profound love for the freshwater, and the protected lakeshore that fed her love for open spaces. She wanted all to have the opportunity to view the powerful nature of the Sleeping Bear Dune from the surface of the water as she was fortunate enough to. She wanted all to realize the power of the Great Lakes, and to have the opportunity to experience their so underestimated potential. She believed in the potential of freshwater surfing. Sleeping Bear Surf & Kayak was built from Beryl's desire to share her joy of playing in the waves, wilding in the wind, diving to the depths, exploring the coastline, and "soaking up the sun" from the arms of our Great Lakes. Her sole purpose was to show everyone what true joy can be, to provide a service to everyone who walked through her door and guide them to a love of Lake Michigan.
Despite the extreme doubt and calls of crazy she held onto the "it's about time"s and "heck yeah"s as she always has done – she does away with the negative and grasps to the optimism of her journey. She received similar backlash in 2007 when she introduced Stand Up Paddleboarding to the midwest. But as her compelling attitude reflected the magic of SUP, the growth of the now ever popular sport took hold. As she has so beautifully said in one of her many video features, "you have to love what you're doing. If you're not having fun and being fulfilled by it, you won't be successful."
Because of Beryl's incredible leaps of faith and love for her work, Sleeping Bear Surf lives on, 19 years later.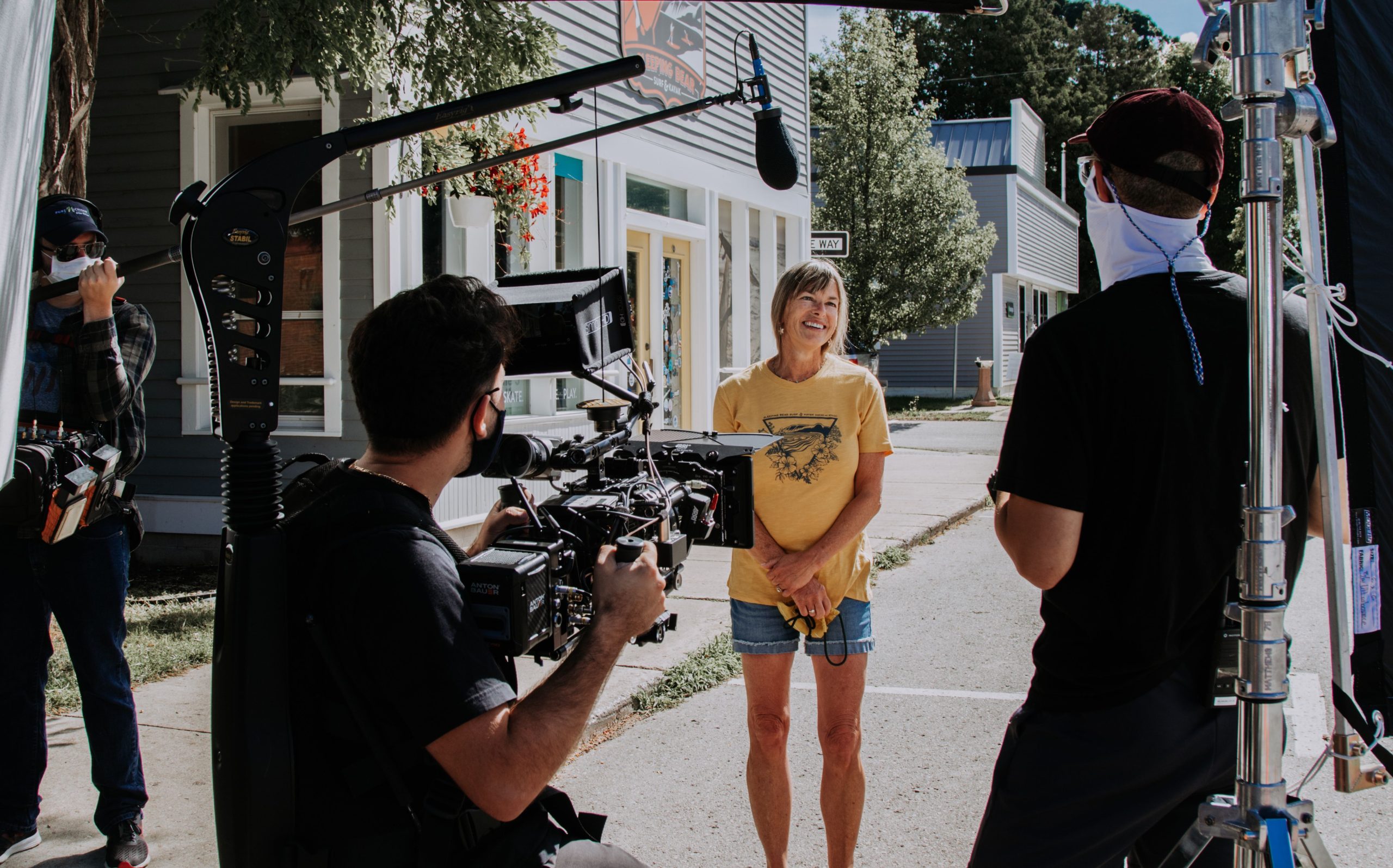 Beryl was, and always will be, the nucleus, foundation, and inspiration of the shop. Her glowing, smiling self was there each and every day to brighten and touch anyone who walked into the space she worked so hard to make her own. Her dedication to being the face within her business was admirable – making it difficult to drag the "retail goddess" out of the shop to give her a break, as she so wanted to be there, to interact and build relationships with her customers.
This was, and continues to be, a true family business. Ella, Reiss and Annabel worked the shop (or were found hiding amidst the clothing racks or dancing in the windows) every summer. With Beryl's joyful, quiet example, her "dumplings" learned how to be always kind and welcoming to everyone they met. They strive every single day to walk in their mother's dancing footsteps; to show the same exuberance for life, friendship and love for all that she carried with her so effortlessly through her day to day.
Beryl had a genuine relationship with so many families, so many children, that grew with the shop over the past 18 years.  Beryl would remember faces that she'd maybe seen only once, and be so excited, overjoyed, to see each and every returning family to the area year after year. Amazing how she remembered names, what the children had been up to, or the intricate details of conversations past. She started all interactions with such love, authenticity, and curiosity, as if she had known you all her life. And a hug, always a hug. If you met her, even once, you were forever touched by her.
Her joy is infectious.
She brought people together outside the walls of her fine establishment too, offering countless free events each summer to give the community every excuse to come together. She invited all to come "chew on popcorn" next to the shop for surf-themed movie nights, hosted community concerts, and cleanups, offered board demos and swaps, online surf photo contests, SUP races and skimboard competitions, full moon paddles, and Friday nights on the wall. All while raising a family, mind you. But oh the wall – our sturdy, unofficial, traditional Friday night lake-side gathering space – the Empire Beach has brought together friends far and wide – old friends and new, passerbyers, customers, watermen, and villagers alike. As Beryl would say with exuberance "Join us to celebrate [life] ~ Empire style! Lots of food, libations and merriment! Sure to be great fun & the finest of folks!". Oh how Beryl had a knack for celebrating life.
But Beryl did not just put her feet up and sit back with pure satisfaction; she knew there was work to be done to protect the places she loves, and to ensure superb quality of life for all.
Beryl gave a voice to the voiceless. She advocated for all of her four legged creatures. She loved piggies particularly, oh yes. She worked to protect and conserve our environment and expand the use and enjoyment of our parks and open spaces. She was an activist marching on Washington for gun control during the Million Mom March with babies at her hips and on her bosom. She marched for equal rights, and climate action. Beryl enthusiastically worked for candidates she supported by knocking door to door, making phone calls and helping support campaigns.
Beryl knew that you can't complain about national and local goings on unless you are willing to get involved to make change.  She was an active member of Empire Village politics, participating and being elected to the Planning Commission and the Village Council. As a passionate resident and business owner she so desperately pushed to keep the business center of Empire anchored in the downtown rather than sprawling away from the village center. She advocated and supported a central sewer system which would keep our main street active with business, restaurants and grocery. And she definitely, determinedly, fought for restrictions on short term rental density.  She fought for all of these things in order to make it possible for more young families to thrive in this incredible village.
Most of all though, she was a water warrior. Beryl had a deep, profound love for Lake Michigan and our expansive Great Lakes ecosystem. She not only held beach cleanups, but attended countless events educating people on Great Lakes advocacy issues, supported countless environmental organizations, and attended the first rally to raise awareness for the Line 5 oil pipeline in the Straits of Mackinac. And, as one of the founding members of the Great Lakes Business Network (GLBN) she worked tirelessly to shut down Line 5, actively meeting with our legislators in Lansing to share her story, enlighten, and gain support for Great Lakes protection.
Her work as a water warrior has always been reflected through her business. Beryl knew through her own experience that once you allow this big lake to wrap itself around you, to hold you on its surface, to gently lap at the shore of your soul, that you would find solitude, peace, and that deep connection to her and this place. Only then can we all find our voice and strength to continue to advocate for her protection.
Beryl's connection to the lakes demonstrated her passion for life. Her passion for life reflected her connection to the lake. Just as the lake, Beryl was fluid, full of life, exuberance, and magic. Everything was better, is better, with Beryl in it! Her spirit lives on so vibrantly in the memories of her "galavanting" across the sand dunes, "zoom vrooming" down the ski slopes, bike trails, and through the trees on cross country skis; squealing down backyard sledding hills; giggling while getting mimi to pose for photos; waving affectionately to her fellow village residents on her saunters about town; screaming with excitement during intense games of spoons; peacefully puzzling, professionally equipped with a headlamp, in front of the fire on a cool fall day, and diving ever so gracefully, weightlessly, through the waves.
Her laughter still resonates through the wind, as her energy dances playfully across the dunes, and flows fervently through the veins of the mighty Great Lakes. The warmth of her embrace may come in a different form these days, but will always be felt by tapping into the great joys of life. May we laugh loudly, sing shamelessly, play passionately, leap courageously, fight fiercely for what we love, and love absolutely boundlessly.
May we all strive to be more like Beryl, as she lives on within us all, forever.