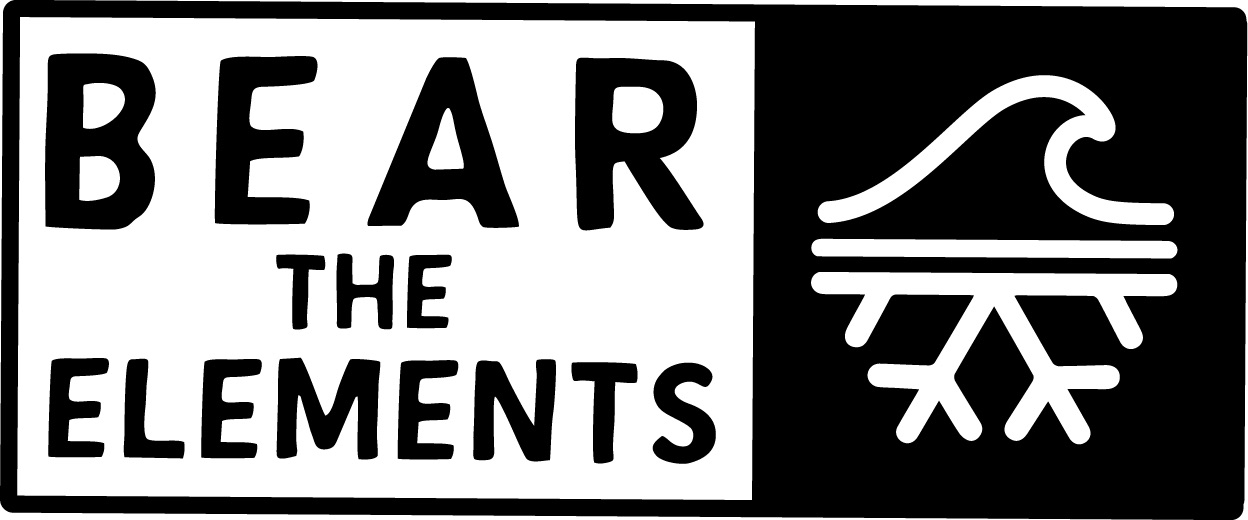 — Challenge EXTENDED through midnight April 1st! —
Here in the Northern Great Lakes we often contend with harsh winter weather, occasionally leaving us without sun for weeks at a time. Whipping winds and blowing snow, ice, darkness, and piercing cold. These extreme conditions and gloom don't always scream 'fun' from the comfort of our homes, and more so encourage days drinking cocoa curled up next to the fireplace. Sound nice right? Yes, but there is magic in taking on such gnarly energy.
The beauty and bounty of our backyard playground does not dwindle come winter time. And if we're lucky, lake effect snow covers our region, coming across the yet-unfrozen lake and dumping powder across the landscape. This phenomenon, often followed by heavy wind creating waves, or a peaceful calm, creates the perfect recipe for the most epic backyard adventure, if you're hardy enough to Bear the Elements.
The Bear the Elements Challenge was designed to encourage you to embrace the outdoors regardless of the weather conditions, and to push yourself to take to both snow and water in the same day. Are YOU up for the challenge?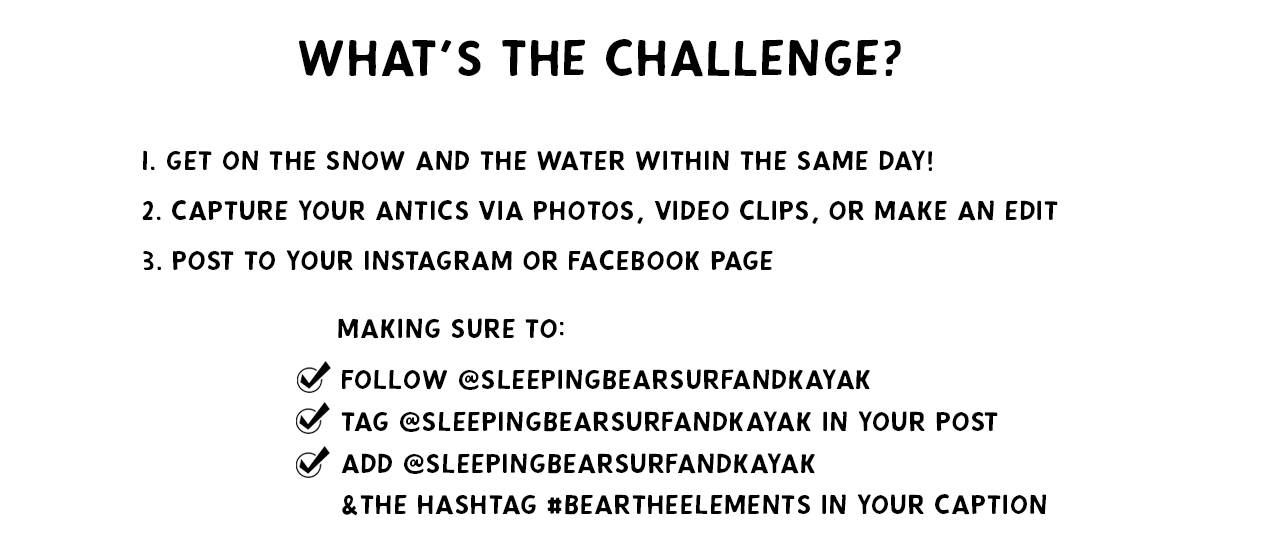 Every Challenge entry, yes, every challenge entry, is awarded 2 day passes to ski FREE at The Homestead Resort!
That's a $100 dollar value just for participating! Woot!
There are TWO categories this year: Adult and GROM! Prizes include: 
Surf Gear Bag by Dakine
4 x Surfears (2 Adult, 2 Grom)
4 x Sunnies by Sunski
Daily Dry Bags by Creatures of Leisure
And, of course, swag from Sleeping Bear Surf!
Entries will be judged on the following:
Creativity: how you merge your snow & water activities, how you capture the day
Gnarliness: the more wild the weather, the greater you bear!
Energy & Fun Havin': Give us that gooooood energy!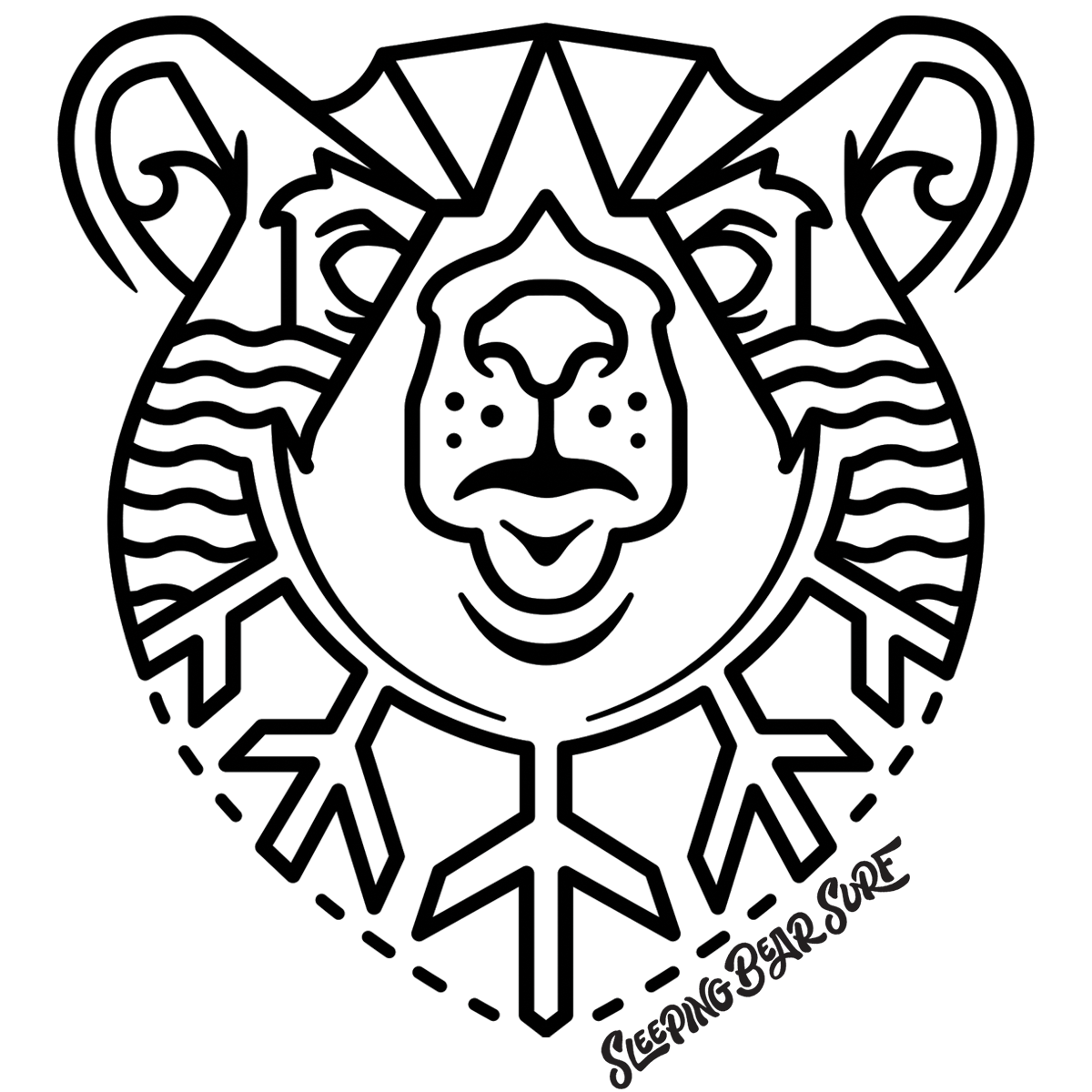 Whatever sport you choose, or let the weather decide!
We're a family of surfers, paddlers, ice-berg jumpers, poler plungers, skiers, snowboarders, xc-skiers, fat-bikers, avid tobogganers…. What about you?
This is an inclusive challenge– you don't have to be a great surfer, extreme skier or filmmaker to partake in the Bear the Elements Challenge. What brings you alive in the winter time?
Go Surf, cruise the river or explore the lake ice via SUP or kayak. Go kiteboarding, foiling, swimming, or take a polar plunge…
And then, get on the snow! Go skiing or snowboarding, cross-country skiing or sledding, hiking, snowshoeing, fat-biking, ice skating, make a snow angel…
The list doesn't stop there! Get creative! There is a trick to getting wet in the winter – choose your schedule wisely! Is your window to surf in the AM? Make sure you dry your hair before you go blast down the slopes!
Don't use social media or don't have the resources to complete the challenge? Fear not!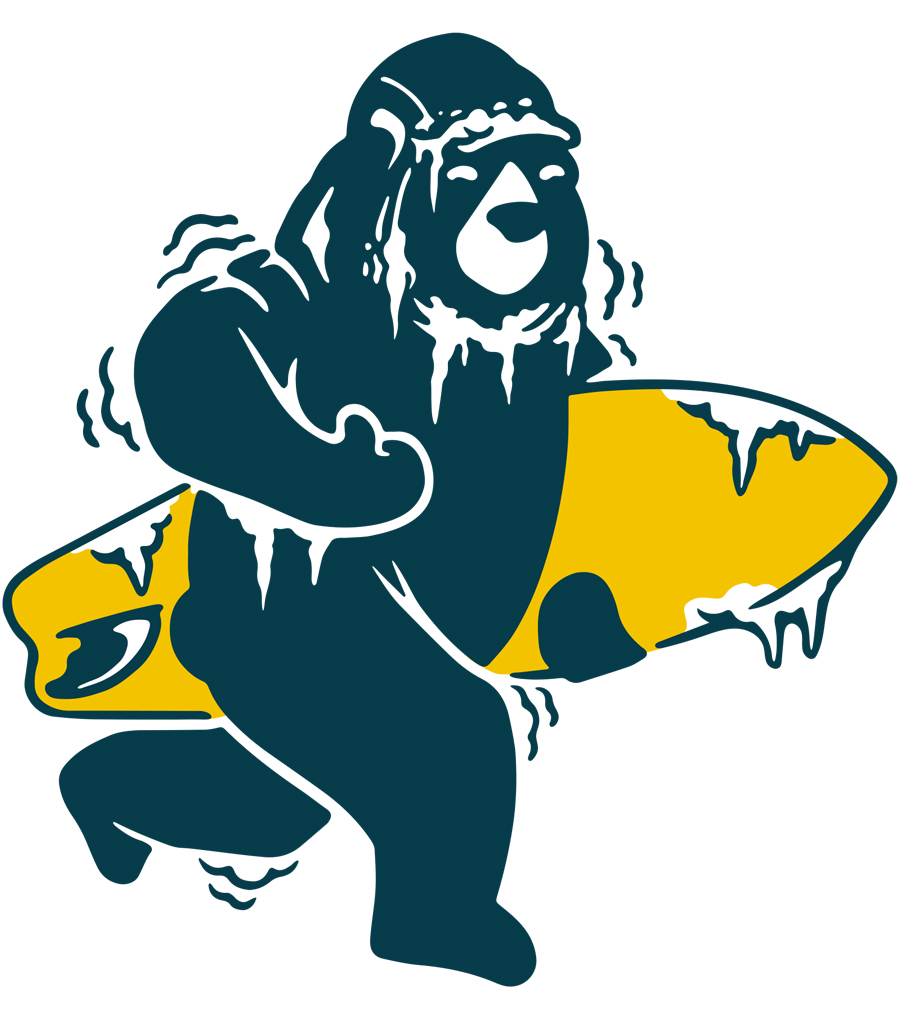 If you, like many, don't have the time, resources or just really are not into taking on both snow and water in the same day, but you did an epic backyard adventure in wild winter conditions? We still want to share your badassery!  That is what we LOVE to see!
Don't use social media? That is awesome! Good for you!  We still so very much encourage your involvement and want to see you Bear the Elements! We will highlight your entry on social media for you (unless you specify that you'd prefer if we don't) and will 100% count your entry in the finals!
Just send your challenge entry to [email protected] with the subject "Bear the Elements".
Be Safe.
Winter on the water is another beast and should not be taken lightly. Please remember to be diligent about safety. Listen to your body and your limitations and be respectful of the lake when she's telling you not to go. Ice in your way? Then it is not your day to play. Make sure you have your brains, your buddy, and ensure that you're well prepared with the proper gear to get you out on the water in the winter time. Don't have warm gear? We're here to help! Hypothermia is no joke.
And remember, have FUN!