Due to popular demand, your favorite Great Lakes water-women are hosting a one-day-only Water-Woman Camp on the Great Lakes.
Aimed toward local ladies who want the fun of Shred Camp without the weekend-long commitment.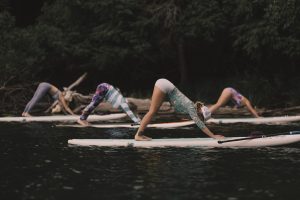 On Sunday, August 11th join Ella and Leda, two of Lake Michigan's most passionate female surfers for a full day of empowerment through yoga, SUP, and surfing on Lake Michigan.
From 10:00am-1:00pm students will warm up their bodies and connect to the water via an awakening sup yoga lesson. Once students are comfortable moving around the board via yoga, we will move into Sup skills & drills learning proper technique to forward strokes as well as advanced turns and maneuvering on the board.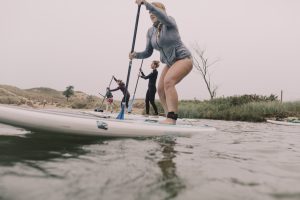 Lunch will be provided by a delicious local sandwich shop and give you some time to get to know your fellow water women and relax.
From 2:00pm-6:00pm students will spend the afternoon learning the ins and outs ofSurfing the Great Lakes. Pray for waves, but as Great Lakes Surfers were always adjusting our lives according to the weather on Lake Michigan.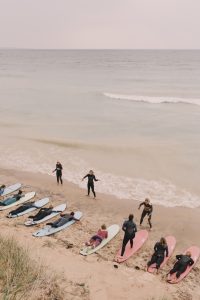 If the weather permits, we hope to be surfing the whole afternoon. No matter the weather, students will learn surf etiquette, forecasting and water safety as well as the fundamentals of surfing. If conditions are completely calm the later portion of the afternoon will be spent putting your new skills to the ultimate test on the big waters of Lake Michigan.
Shred Camp is all about embracing whatever mighty Lake Michigan and the ever-changing forecast throws at us. Remember that we do not have control of the weather. We can not make waves, nor can we stop the rain. The weather surely will not prohibit us from having an absolutely epic, magical day.
There will be an optional meet & greet bonfire Saturday night at Empire Public Beach at 8:00pm.
As well as an optional dinner afterwards (at your own cost) to wrap up the day Sunday evening after 6:00pm.
$250 Includes:
Full day gear rental: Stand-Up Paddleboard, PFD, SUP leash, paddle, anchor, surfboard, surf leash, wetsuit.
Locally sourced Lunch!
Swag bag filled with local goodies including discounts to SBSK, and Shred Camp exclusive lid.
Surf, SUP & Yoga Lessons with Michigan's most dedicated water-women
Call to reserve your spot (limited space available): 231-326-9283 (WAVE) OR BOOK NOW!